September 2017
Newly renovated 1700-square foot, 3-bedroom, 1.75-bath house with sunroom, office, two porches, covered carport, herb and vegetable gardens, fruit trees, wireless Internet, cable tv, firepit, and private woods with walking paths. Fully equipped kitchen. Rocking chairs, down pillows, memory foam mattress in the master bedroom, complimentary bicycles, horshoes, and other comforts and distractions.
Located on a quiet dead-end street on a hill above the inner harbor with live oaks and banana trees, directly across the inner harbor from Shearwater Park (The house is barely visible among the trees in the linked photo.) and the entrance to Shearwater Pottery.
There's excellent bird watching, wooded walking paths, five blocks from downtown Ocean Springs. The property is a Certified Wildlife Habitat per the National Wildlife Federation. (But don't fret about wildlife in the house.)
Available for rental. Contact Don at HarborGardenHouse@gmail.com for details, rates, and reservations. The house is listed on airbnb.com and TripAdvisor.com, but you can also call Don directly at 228.806.1009. The basic rate is $175/night with substantial discounts for week-long or month-long visits. Note: The house is already booked for 2017 Cruisin' the Coast, 2017 Peter Anderson Festival, and the months of January and February 2018.
More information and photos:
Facebook - with lots of photos

Google Places - location and driving instructions, detailed contact information, comments

AirBnB.com - Explore the house and grounds, check availability, and make reservations on AirBnB.com.

Tumblr - A photo blog for guests and potential guests to help you get to know the house and the local area. It features nature observations, good food opportunities, local events, fishing tips, and updates on the house and grounds.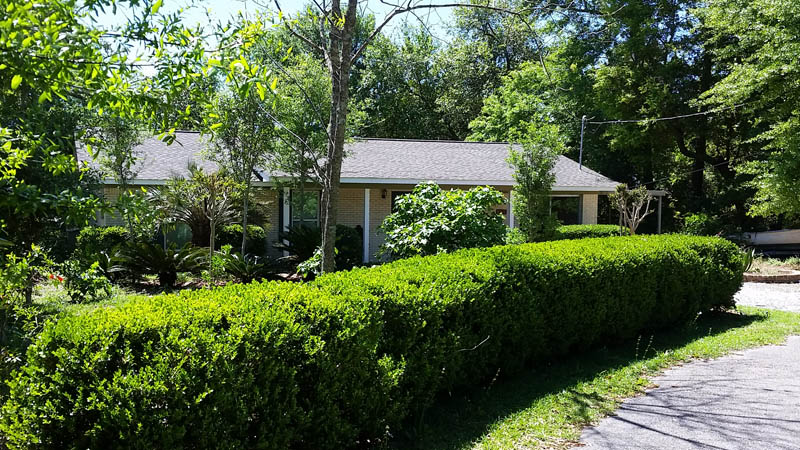 It's September. What's fresh and interesting in the garden?
Herbs: There's turmeric, oregano, sweet basil, African blue basil, fennel, chives, tarragon, thyme, mint, rosemary, sage, bay, lemongrass, and Greek oregano. (Cilantro, parsley, French arugula, and arugula will be back later in the fall.) All the wild garlic has disappeared.
This will be a banner year for ginger and turmeric. The rhizomes are still growing and getting larger, but there's plenty for harvesting now.
Vegetables: The near-monsoon rains recently really hurt the garden. But there are a few cherry tomatoes, lots of Tabasco peppers, and a few Cherokee Trail of Tears pole beans. There's a second planting of pole beans that should be ready to pick before the cold weather shuts them down. Beets, mustard greens, and arugula have been planted. Around Thanksgiving there should be a few mirlitons for creating classic Gulf coast dishes, like shrimp and tasso stuffed mirlitons. I have a great recipe and usually have a batch of homemade tasso to share. I have a few bell peppers and Seminole pumkins next door at the red house that might be shared for a special occasion.
Fruit: The kumquats, grapefruit, and calamondin are nearly ripe. There's a huge crop of wild persimmons this year and there should be ripe ones any day. They're great for persimmon pudding. This is not a good year for guavas or pomegranates. The apple banana tree has a stalk of bananas and I'm hopeful that they'll ripen before the cold weather shuts them down for the winter.
Other Growing Things: The loofa gourds vines are setting fruit. After they have matured and dried, they make great bath sponges. The passionflowers are blooming furiously and there are still some Texas star hibiscus blooms. The tiny deep red blossoms on the trellis by the back deck are cypress vine. There's a good crop of awapuhi (pine cone) ginger blossoms; the liquid inside them is famous for being a good shampoo and conditioner for your hair.
Local Food: You can find fresh (often caught that morning) shrimp from the boats in the harbor. Expect to pay about $2.50 per pound for smaller shrimp and $4.00 to $4.50 per pound for larger shrimp (16 count or larger). Local fresh shrimp are the greatest food bargain you'll find and the taste is superb.
Critters and wild things: All the usual summer suspects are here: cardinals, catbirds, bluejays, various doves, thrashers, towhees, wrens, titmice, and gulls, pelicans, and terns in the harbor. Hummingbirds are coming to the feeder. There were at least six broods of birds raised on the property, including mockingbirds, wrens, great crested flycatchers, titmice, bluejays, and cardinals. A Mississippi kite was spotted soaring over the house earlier this summer. The bald eagles have returned from wherever they go in the hottest part of the summer. I haven't heard either the screech owls or the great horned owls lately.
Toads and frogs are calling in the woods on wet nights. The two ephemeral ponds are full of water and there are still tadpoles. With all the rain we've had, the spring is flowing well. The box turtles are very active. I've found three clutches of eggs in the wood chip mulch piles in the west woods.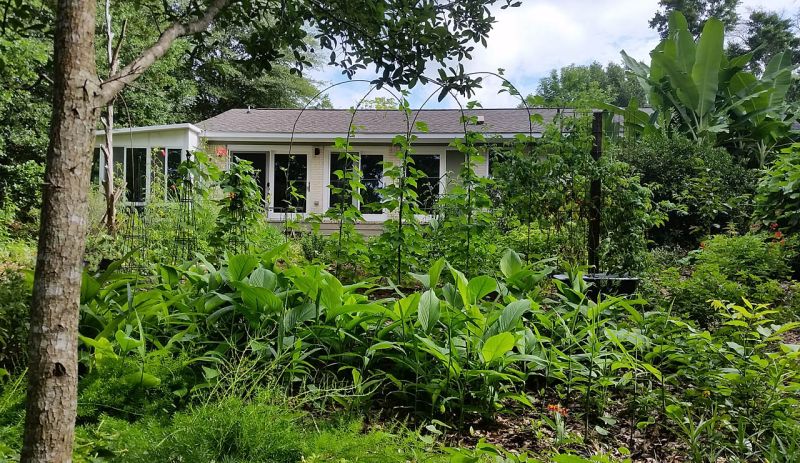 View of house and garden from the harbor side in early summer, showing pole beans and tomatoes. Guests have picking privileges, including the turmeric and ginger in the foreground and the herbs nearer the house.